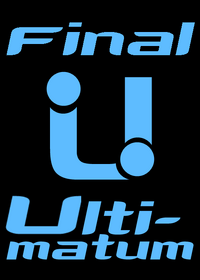 You have to do what you can, with everything you've got.

Final Ultimatum is a series by PhotonCommander10. It features his original character, Luke Daniels (AKA Ultimatum) in his quest to become the world's greatest hero, while still balancing his 14-year-old life.
Plot

What doesn't kill us makes us stronger.

Luke Daniels was an ordinary 14 year old, until a race of hyper evolved geckos partially created by him entered his life. Now he's a hero by all standards, just...not quite. He's new to the business, but he's also good at what he does. With the help of the British branch of S.H.I.E.L.D, Titan, he'll become England's greatest hero, and maybe even the world's.
Characters
Featured Characters
Edit
Supporting Characters
Edit
Chapters
Notes